Spiritualized
York Fibbers, U.K.
March 3, 2004
Quality: Audience, A-
Running Time: 52:55 + 35:23

01. Intro
02. All Of My Tears
03. Walking With Jesus
04. Hold On
05. She Kissed Me (It Felt Like a Hit)
06. Lord Let It Rain On Me
07. Oh Baby
08. Anything More
09. Cheapster
10. This Little Life Of Mine
11. Let It Flow
—————————
12. Never Goin' Back
13. The Ballad Of Richie Lee
14. Run
15. Take Your Time
16. Smiles>Things'll Never Be The Same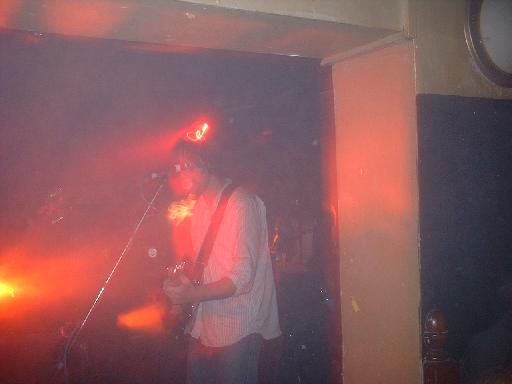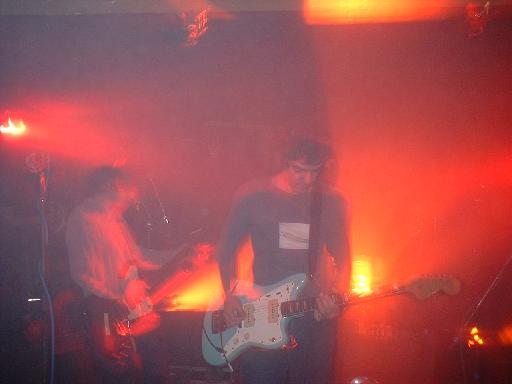 Spiritualized, Fibbers, York, on March 3
From the Evening Press, first published Friday 27th Feb 2004.
SPIRITUALIZED will play not one but two performances in York on Wednesday night.
Already booked for a night-time show at Fibbers as part of the Passport: Back To The Bars charity week, Jason Pierce's psychedelic band has added a 6pm matinee. As with the 8pm gig, all proceeds from this additional 90-minute set will go to Shelter and War Child.
Jason may be noted for the epic scale of his symphonic rock but he is delighted to be playing in the small, subterranean location of Fibbers for two reasons.
"We had a great gig the last time we were in York [in March 2002 at the Barbican Centre], and part of why we're coming back is that people were so appreciative that night," he says.
"I've always said it's easier for us to make the journey to play than for people to have to get into a car and travel to Leeds or Sheffield. It makes for good shows in places such as York and Aberdeen and Folkestone."
How did Spiritualized become involved in the Passport shows?
"I got asked because I know a girl called Kerry who works for War Child. That was our first point of contact, and we'd also given a track to the War Child album last year: an early mix of Hold On," says Jason. "Kerry's got my number, and it's not that hard to track me down."
Jason will be performing with the same seven-piece band that played at the Barbican in 2002 and featured on Spiritualized's 2003 studio album, Amazing Grace. "We've been doing shows playing the Amazing Grace material, playing spontaneously, and when we play this close to the audience it's amazing.
"We do shows like this, in small places, all the time, though not so much in England, and I think they're really exciting," he says. "Live music is all about pushing a huge amount of air at the audience and feeling it coming back off the back wall. You really are part of the air and the atmosphere, and there'll be even less air in Fibbers than usual with us in there."
Whether playing in Spain or America, in large halls or record stores, in the afternoon or at night, Jason enjoys all performances.
"It's the spontaneity. It's all about the physicality of the music and responding to the other sounds in the room. Anyone can practise playing ten notes in a row but great music isn't talent; it's about soul and something that's not easy to express in words. Whatever Spiritualized are achieving is quite amazing," he says.
"I think it's extraordinary that we can still be pushing at the edges and taking music further, even after so many albums. We're still covering new ground."
In Jason's view, the less ornate Amazing Grace represents another progression.
"Every album has felt like that, and although Amazing Grace is not covering as much new ground as people expect, it's more important to cover the tiniest new ground than go over old ground."
Old ground is covered, however, on two compilations of singles, rarities, alternative versions and live tracks overseen by Jason: namely last year's The Complete Works, Volume One and this month's companion piece, Volume Two. "They stand as records in their own right," he says. "The good thing about them is that they negate the need to have a Greatest Hits album; they are there to stand alongside all the other albums available.
"They are `Complete' because they pretty much cover everything Spiritualized have done. The only things that are not available are the very early demos, which are kind of weird. Maybe they will come out some day, maybe never. No decision has been made," he says.
Already Jason is turning his attention to the next Spiritualized album. "We're starting to put together things, but whether there'll be a record this year…"
Spiritualized play Fibbers, York, on March 3. No tickets are available for the 8pm show but tickets are still on sale for the 6pm matinee, £10 in advance or £12 on the door from 5pm, if any remain unsold. To book, visit Fibbers or ring 0870 9070 999 or use the online service at www.fibbers.co.uk
Updated: 15:18 Thursday, February 26, 2004
article from here