Cop Shoot Cop

Shine A Light

Electric Mainline

Electricity

I Am What I Am

Come Together

Think I'm In Love
setlist from here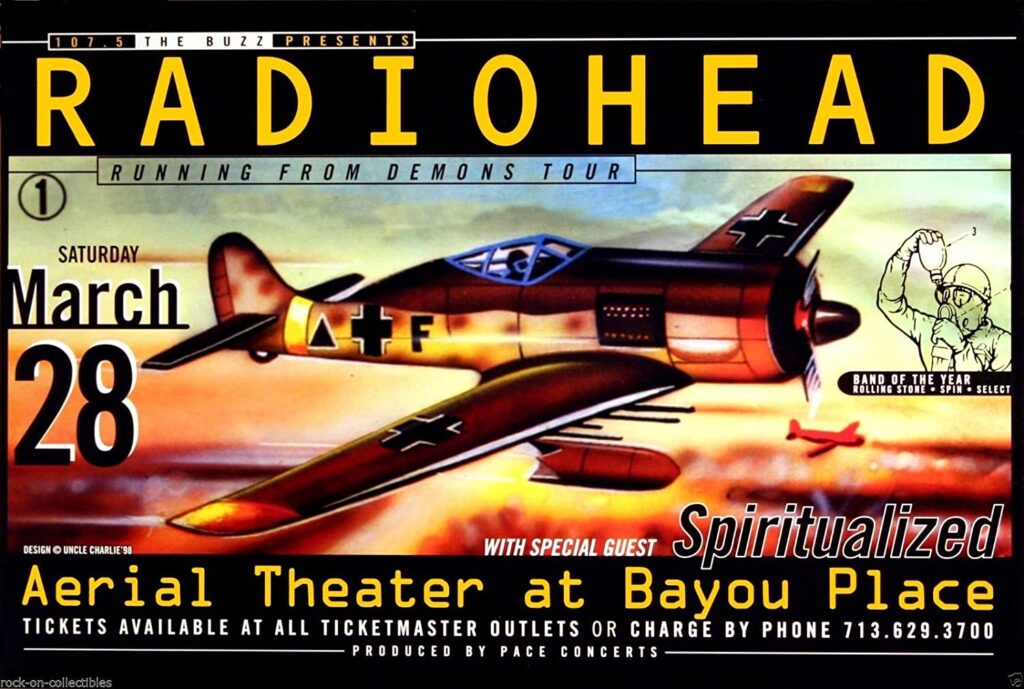 Radiohead is bringing its acclaimed live show back to the States, and Spiritualized and Björk will be along for support.
When
the tour kicks off on March 28 in Houston, Spiritualized (a group whose
ethereal "Ladies And Gentlemen We Are Floating In Space" was almost as
acclaimed as Radiohead's "OK Computer" last year) will be handling the
opening spot. According to a spokesperson for the band, Björk is also
confirmed to open four shows on the tour in Toronto, Montreal,
Worcester, Massachusetts, and New York City.
Meanwhile, a
spokesperson for Radiohead confirmed to MTV News that the band is
currently shooting footage that may appear in an upcoming home video,
but could not confirm the nature of the video or the footage it will
contain. The "Los Angeles Times" recently reported that the home video
would be dubbed "Meeting People Is Easy" and would contain the usual mix
of performance footage and behind-the-scenes chicanery, but Radiohead's
camp says that all the
band has done so far is compile raw footage and so far has no plans or it.
Radiohead's
next U.S. jaunt will come just after frontman Thom Yorke's brother
wraps up his own tour with his band, Unbelievable Truth. Britain's
"NME" reports that Andy Yorke and his group (who have landed on Virgin
Records) will hit the road in the U.K. on Wednesday and will keep
rolling until late in the month.
If you'd rather see his big brother Thom with Radiohead, here's where the band's spokespeople say you should look:
3/28 – Houston, TX @ Theater at Bayou Place
3/29 – Dallas, TX @ Music Hall at Fair Park
4/1 – Los Angeles, CA @ Universal Amphitheater
4/2 – San Francisco, CA @ Bill Graham Civic
4/4 – Salem, OR @ Salem Armory Arena
4/5 – Seattle, WA @ Paramount
4/6 – Vancouver, BC @ PNE Forum
4/8 – Calgary, ALB @ Max Bell Center
4/12 – Toronto, ONT @ Maple Leaf Gardens
4/13 – Montreal, QUE @ Molson Centre
4/15 – Worcester, MA @ Worcester

Center

4/17 – New York, NY @ Radio City Music Hall
some North American tour dates have been announced:
"Radiohead is about to embark on their second U.S. tour in support of OK Computer, with Spiritualized opening four or five shows, and Bjork possibly on the bill for four dates. The tour kicks off March 28 at the Theater Bayou Place in Houston, Texas, and will most likely wrap up April 17 at Radio City Music Hall in New York City. Bjork is tentatively slated to appear on the last four dates of the trek. At press time, the only two Spiritualized dates confirmed were the March 28 Houston show and the April 1 Los Angeles show. Here are the initial confirmed dates; more will be added:
March 28, Houston, Theater Bayou Place
March 29, Dallas, Music Hall at Fair Park
April 1, Los Angeles, Universal Amphitheater
April 2, San Francisco, Bill Graham Civic
April 4, Salem, Oregon, Salem Armory Arena
April 5, Seattle, Paramount
April 6, Vancouver, PNE Forum
April 8, Calgary, Max Bell Center
April 12, Toronto, TBA
April 13, Montreal, TBA
April 15, Worcester, Mass., TBA
April 17, New York City, Radio City Music Hall"
i do not have any more info about these dates or when and if they will add more. stay tuned.
make sure to watch MTV's 120 minutes tonight at 12:00 am EST time. they will be showing live footage of radiohead to promote the new 120 minutes live cd that contains fake plastic trees live. the cd should be released sometime this week.
Post dat