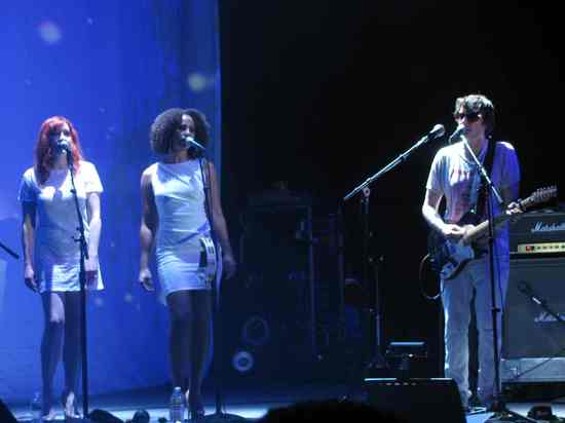 Live Review, 5/23/12: Spiritualized's Wall of Sound Assaults the Fillmore
Spiritualized Nikki Lane
Wednesday, May 23, 2012 The Fillmore
Better than: Battling your own demons.
It's impossible to separate the man behind Spiritualized from his music. The psyche of Jason Pierce, aka J. Spaceman, permeated the packed house at the Fillmore last night — and there were a few casualties.The bartender attributed the chaos to a poorly mixed cocktail of alcohol and pot, but there was more to it, a heightened sense of emotion in the air. From Pierce emanated an intensity that flooded the audience with Spiritualized's wall of sound. Some of us swam, others drowned.
To the guy who passed out in the audience and had to leave in a wheelchair: Whatever you took, take less next time. You missed a great show.
To the couple who argued at the bar, making those around them uncomfortable and anxious: That sucked. You should never again allow a bad relationship to stand in your way of good music.
To the guy who held his girlfriend so tight, she seemed to be turning blue: She's not a rag doll. If you want her to stick around, give her some breathing room.
Dressed in all white, with two backup singers by his side, Pierce didn't speak a word during the entire set, singing into two mics and aggressively picking his guitar. His band, a revolving group with every album and tour, poured relentless energy into the show — particularly the bassist, whose solo during the encore mesmerized everyone, Pierce included. The visuals, as bright and bold as a lucid dream, gave the illusion of another dimension. As expected of psychedelic music from England, it was both introspective and an assault.
While recent Spiritualized albums cannot match the brilliance of Ladies and Gentleman We Are Floating In Space, or Let It Come Down, the music remains the work of a fully possessed man. Pierce has been accused of writing the same song over and over about the same themes: love, loss, longing, and a lot of Jesus references. Hearing him sing of these obsessions, over the howl of heavy guitars and haunting melodies, does feel familiar; we've struggled with some of the same themes over and over.
The wasted guy, though he missed this song in the second half of the set, might as well have written "All I want in life's/ a little bit of love to take the pain away" across his chest. The fighting couple probably begged one another, "Don't go." The boyfriend suffocating his girlfriend really wanted to say, "Stay with me." Gratefully, Pierce has translated these complex situations into simple, sad songs, so we don't have to feel so alone.
Critic's Notebook
Overheard: "I'm stuck at some weird psychedelic concert and I just want to go home." — Woman on her phone in the restroom.
Helpful advice: If you care to maintain your hearing while you nurse your heartbreak, wear earplugs to a Spiritualized show.
review and pics from here